Composing Music for Games is the world's most authoritative and comprehensive textbook for video game composers. It offers a practical approach to learning, intensified through challenging project assignments and simulations.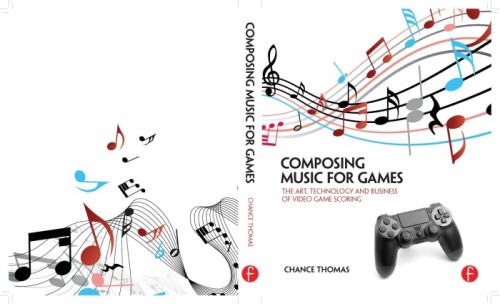 Early chapters examine the language of music scoring, offering timeless scoring techniques and tools that work successfully in all media – films, television, theater, commercials, and games.
Middle chapters explore distinguishing traits of video game music. Readers learn how to build a comprehensive music design. Powerful game scoring techniques are revealed, from the most basic to the most highly advanced. Composition processes, production pipelines, and technical implementation are introduced and explored, accompanied by a survey of current tools.
Late chapters show how to launch and run an effective music scoring business, with candid details specific to the video game industry. Business topics include prospecting, pricing, contracts, social media, ancillary income streams, lifestyle management, disruptive innovation, and career evolution. The book concludes with a look to the future, citing contemporary vanguards, emerging technologies, and the potential for genius in human imagination.
In discussing his book, Chance says, "I have distilled twenty years of my own game scoring expertise for readers, having personally researched, invented, tested, observed, refined, and applied the concepts in this book across a dizzying array of commercial video game scores – from high-stakes blockbusters to shoestring budget indies. Dozens of top thinkers have also contributed their expertise: Garry Schyman, Troels Folmann, Nancy Andreason, Mike Morasky, Clayton Christensen, George Sanger, Paul Lipson, Gustavo Constantini, Marty O'Donnell, Guy Whitmore, Joel Klebanoff, and many others from gaming, neuroscience, education, and business. The firepower of this brain trust, gathered together into this one book, is truly extraordinary."
Get a first look. Take a peek inside the book's content here: www.ChanceThomas.com/textbook.html
Composing Music for Games is now available for pre-order on Amazon.
Chance Thomas' Professional Bio
Chance Thomas is an American composer, educator, and entrepreneur. His music has underscored blockbuster commercial success and critical acclaim, including an Oscar ™, an Emmy ™, and billions of dollars in video game and film sales worldwide. Game credits include DOTA 2, The Lord of the Rings Online, James Cameron's Avatar, Heroes of Might and Magic, Peter Jackson's King Kong, and many more.
As an educator, Chance works with universities, colleges, and conferences to help students and professionals navigate the intersection of music scoring, technology, and business. He has served on advisory boards for Brigham Young University, Full Sail University, the Game Developer's Conference, the Academy of Interactive Arts and Sciences, and the Game Audio Network Guild. His business interests range across studios, publishing, and audio services, successfully supporting a music career spanning more than 30 years. Please visit his website for more details: www.ChanceThomas.com