The best free VST instruments can sound, in some cases, almost as good or as good as top-notch commercial VSTs. To save you the hard work of figuring out which free virtual instruments make the cut when it comes to quality, we've compiled a guide to the best free VST instruments with links to the downloads.
Request your free copy of "25+ Awesome (and Free) VST Plugins for Film and Game Composers" below!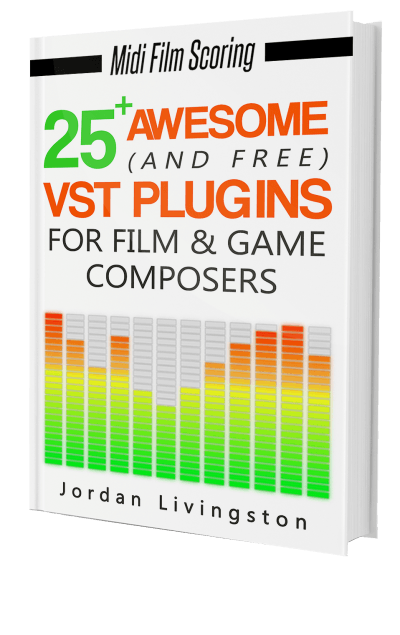 Each VST instrument or tool we use for composing has its own learning curve, and once we pass the time it takes to learn to use a plugin, we can creatively and freely compose music.
More often, what takes longer than learning how to use a new VST plugin is finding that plugin in the first place. The Internet is filled with a huge variety of audio loops as well as top-quality VST plugins – many of which are free – but out of those, less are high quality and worth the time to learn to use.
"25+ Awesome (and Free) VST Plugins for Film and Game Composers" will help decrease the time it takes to find the best free VST instruments of 2015, allowing for more time to learn each one and begin composing music with it. These VSTs are the essentials: a basis of instruments to get in your collection, learn to use well, and then eventually build off of.
From a Steinway VST instrument to an orchestral VST and everything in between, these are the best free VST downloads available.
E-book Preview:
Out of all other instruments, piano is one of the most necessary when composing for cinematic styles of music. It's easy to leave out much of the dynamics when making a synth version of a piano. As a result, high-quality sampled piano VSTs are often very expensive. Here are a few of my favorite free piano VSTs, and a few other useful piano-style VSTs.
Ivy Audio: Piano in 162 (Win/Mac)
Piano in 162 is possibly the best free piano VST, and arguably better than a lot of expensive VSTs as well. It's a sample library of a Steinway grand piano that brings a large, epic feel that is difficult to simulate.
It's available for Kontakt, and if you don't use Kontakt, they also have SFZ format to download as well. I used this one in Kontakt and I really like the simple user interface. Adjusting the close and the ambient meters can give you a lot of variety in the VST before even using any external effects. For my classical-style piano album, "Passing Of A Day," I experimented with a number of piano plugins and layered effects overtop to simulate a live performance, and this free VST held its own against an expensive plugin I had purchased.
Piano in 162 is ideal for composers who need anything from a faint piano melody behind an eerie synth or a full soundtrack centered around a full real-sounding piano itself; this VST can do it all. The only caution is that it is over 5 GB of space. It's definitely worth the space and a great deal to get, but if you don't have that kind of space available, then the next VST by Tascam is for you!
Sign up below and get the full e-book delivered straight to your inbox!