In this review of ProjectSAM Swing!, composer Travis Lohmann breaks down the the patches, GUI, and applications of this jazz library.
With their feet firmly cemented in the orchestral realm of composition, ProjectSAM has created such diverse libraries as Symphobia 1 and 2, Lumina, Orchestrator and Animator, as well as the True Strike and Orchestral Essentials volumes. It is therefore a delightful surprise to see the Netherlands-based company take an unexpected turn and create Swing!, a jazz-themed library complete with woodwinds, brass, rhythm section (including nylon string guitar and ukulele), and percussion.
This library recalls the sounds of classic Henry Mancini-esque scores, intertwined with the smoky, mysterious atmospheres of old-school speakeasies.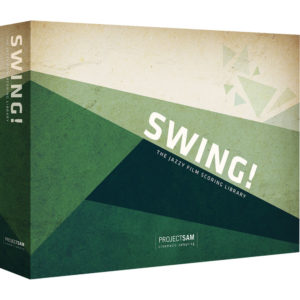 In this review, we'll examine the architecture of the Swing! library. It is very simply organized and finding sounds is extremely easy. Additionally, we'll examine ease of use of the library, as well as quality of sound and blend.
Swing!'s whimsical nature and playful tone will make a unique addition to any composer's palette, and it's not nearly as hefty as other libraries, clocking in at a medium-sized 35GB uncompressed.
FEATURES
Swing! is divided into seven folders: Lead Instruments, Big Band Ensemble, Sax Section, Brass Section, Rhythm Section, Slide Guitar, and Tempo Synced Grooves. The first of these folders contains everything from Big Band Legato, Trumpet with Harmon Mute, Accordion, Harmonica, and even a Whistle Ensemble. The last of these folders contains grooves of both drum kit and nylon guitar that work within your DAW and provide creative rhythmic framework.
A notable feature of Swing! is how articulations are handled. This is the first time I personally encountered having articulations handled through both the mod-wheel and velocity. Everything from falls, doits, scoops, and shakes are at one's disposal, if handled correctly.
Personally, I love how easy it is to adjust microphone placement and sound. Sliders for "close" and "stage" mic-ing are present, and individual control over "Direct", "Ambient" and "Wide" for certain patches.
Other features that come extremely handy are the chord features for patches such as Sax Ensemble and Big Band Chords. These patches section off the keyboard according to chord nomenclature and voice it out accordingly for said ensembles.
I like that it lists the instrumentation of patches as well; it's a small detail, but it's nice to know what's being played.
INTERFACE
As I've briefly covered the interface above, I'll go a little more in depth with the layout. If there's anything to be said about this library, Swing! has one of the most simplistic, yet eye-pleasing interfaces to use. Everything is neatly organized, and there's no clutter.
From the GUI, you can control amount of reverb, attack, and release; turn a limiter on and off; adjust mic placements; and, most importantly, see how to handle the articulations.
Gone is the usage of keyswitches, so keep your eyes on the Velocity and Modwheel gauges (more on that later). Also, when in doubt, click the "i" icon and a boatload of help and descriptive text will guide you along the way.
SOUND
ProjectSAM Swing! is a very unique library geared towards a specific musical niche and style. The sound of this library hearkens back to big bands such as Glenn Miller and Paul Whiteman, but can also be found to have influence from Stan Kenton as well. Yet, it is neither solely a "big band" library nor a "film noir" library; it is both. On the film noir side, users can reminisce in the sounds of composers such as Lalo Schifrin and David Raksin.
Within the demo track I composed using sounds from Swing! (see below), I found the trumpet section and the sax sounds especially pleasing. The effervescent nature of the "Trumpet Section High" was just so much fun to play around with. Conversely, the wispy and floating quality of the saxes adds a wonderful timbre and complemented the rest of the instruments quite well. (I decided to push the library a bit and wrote a five-part sax soli within my demo track).
As with all sample libraries, some finagling with the out-of-the box sound might be necessary. I found this was the case with the trombones; adding some verb and tweaking mic placement helped a great deal.
It came as a pleasant surprise to find a nylon string guitar included. I found the tone of both the strumming patches and the individual notes to be resonant yet still have a slight twang to them. As with most tempo-synced patches, you're at liberty to change the speed of the pattern as you see fit.
Within the "Big Band Ensemble" folder, you'll find an array of Tutti and Unison patches. I loved using the Big Band Tutti Short for hits and pecks, as well as using "Big Band Chords" for accents. The sound was robust and full, yet not overpowering.
Demo track by Travis Lohmann:
OVERALL VALUE
As a whole, ProjectSAM Swing! proves to be a welcome entry into a composer's sound collection. I was extremely pleased with the organization of the patches, as well as the quality of sound, specifically from the saxes (including glissandi and growls) and the trumpets (both muted and non). I found the legato lines to be very usable, though "Big Band Legato" is better suited to slower-moving melodic lines.
A bonus is the sheer eclectic variety to be found with instruments such as accordion, lap-steel guitar, finger snaps, and whistle ensemble. Swing! is much more than just a jazz-based library.
While Swing! might not be as hefty or comprehensive as some other libraries, it covers ample territory in the "film-noir", "jazzy film scoring" genre. This library is a good starting point for any composer wishing to try his or her hand at writing in this musical genre. Quirky and imaginative, Swing! allows plenty of creative possibilities with wonderful results.
VERDICT
Diversity – 9.9/10
Ease of Use – 9.2/10
Sound Quality – 10/10
Value – 9.7/10
For any of your film-noir/jazz film scoring needs, consider giving the Swing! library a shot. The price tag ($349) isn't nearly as exorbitant as other similar libraries. It comes equipped with plenty to get you started and plenty more for you to discover.