Difficulty Level: All Levels
Electronic music and orchestral music are two very different genres with different applications, backgrounds, and influences. But despite the almost juxtaposing nature of these two genres, they can work together very effectively from a compositional standpoint. Orchestral music with contemporary influences is particularly prominent in the film and video game industries.
In this short tutorial, we'll look at five specific techniques that you can use to combine contemporary effects with your orchestral samples to create infinite unique colors and effects. I've also included several examples of film and TV soundtracks that do an excellent job of demonstrating these techniques.
If you're relatively new to production, don't be intimidated by the tips included here: Composers of all levels can start applying these tips in their compositions today and — with practice — achieve some great results.
1. Add Definition to String Repetitions With Percussive Hits
The sheer versatility of the string section lends itself to virtuosic and extravagant performances. Some of these involve very fast repetitions of notes to give music a feeling of speed and urgency — despite the fact that, upon a closer look, the harmonic rhythm is actually relatively slow. This often works to great effect.
In some cases, though, the speed of the repetitions comes across as sloppy because the instruments are struggling to keep up with each other. This could happen in a live performance due to the multiple performers being minutely out of time with each other, as well as in a sequencing situation if the CPU is struggling to process all of the sounds simultaneously.
To overcome this potential sloppiness and to tighten up the sound, try combining each repetition in the string section with a short electronic hit of your creation. Clicks, pops, and other short and high-frequency sounds work especially well: You might use anything from a pitch-shifted woodblock or xylophone to a light switch.
Combining these short, sharp, and easily quantizable sounds with your strings will create an aural illusion of rhythmic tightness, while also offering infinite possibilities for coloring their timbre. For a fantastic example of this technique, listen to "Mombasa" from the Inception soundtrack.
2. Apply Backmasking (Subtle)
If you're unfamiliar with the term, backmasking is essentially playing a recording backwards. Backmasked sounds can be combined with their original forward-playing counterparts to create gorgeous ambiences.
The piano is a brilliant contender for this technique, as its attack lends itself very nicely to being played in reverse.
When used more subtly, this technique adds elegance and majesty to even the simplest series of piano notes. One noteworthy example of this is the "Black Mesa Theme (Mesa Remix)" from the superb soundtrack of the video game Black Mesa (this whole soundtrack is a master class in handling electronics — strongly recommended).
A second example is "Let Her Go" from The Amazing Spider-Man 2.
3. Apply Backmasking (Bold)
In our previous examples of backmasking, the technique was used simply to enhance the color of a track; however, backmasking can also be showcased as the main feature in a piece of music. Long, sustained chords played in reverse hold the audience's attention for a surprisingly long time.
Take "A River of Tears" from the Doctor Who: Series 5 soundtrack. If these chords were not backmasked, they would be noticeably less gripping and tense.
4. Harness Low Fidelity
As producers, we're constantly trying to increase the fidelity of sounds by removing background noise, adding compression, and just generally making the sound "perfect." Not to say this is a bad thing: It's a perfectly necessary process in today's film and game industries, as well as in many others. But anybody who happens to own a record player knows the warmth that comes with an analog sound. The hisses and crackles are endearing and a characteristic part of the listening experience.
For a truly different sound, consider layering your tracks with record player crackles. It's possible to get FX plugins that mimic this sound, but there's nothing quite as rewarding as doing it yourself. If you can, let a vinyl track run to the end and record the last few seconds, when the needle is still tracking after the music has stopped. Layer this with your more mellow tracks and you'll end up with an entirely new piece. Listen to "Phone Call" from Eternal Sunshine of the Spotless Mind for a great example of this.
5. Combine Vocals, Strings, and Pads
This next tip is getting into advanced production, but it's not beyond greener composers given they have the patience. Vocals, strings, and pads can work incredibly beautifully together when done correctly. The trick is to try to mold the three unique instrument sounds into one.
For instance, you could take female vocals, muted strings, and a slow, sustained, eerie pad; then, merge the frequencies so that each of the sounds has a point where it overlaps with another. The result can be stunning.
To get a better idea of how this technique is applied, imagine the frequencies like so: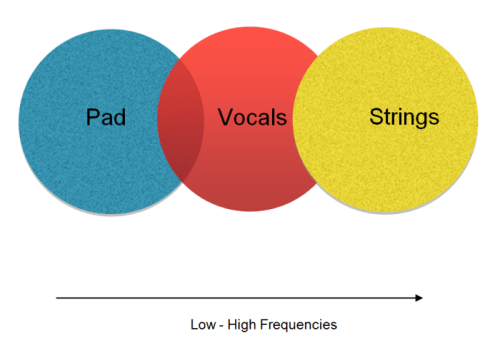 Overlapping the frequencies in this way can create the illusion that all three instrument groups are actually one. You can apply this technique on its own or use it to create some really nice atmospheric soundscapes for use as a backdrop against your compositions. Check out "Matrix Reloaded Suite" from The Matrix Reloaded at around 11:20, and "Aningaaq" from the film Gravity for some superb examples on how to do this well.
These are just a few of the techniques you can use to layer electronic sounds with your orchestral samples, so don't stop here — be creative! Try to come up with your own layers and combinations to produce a unique sound that's never been heard before. This is what will truly set your music apart from the competition.
Featured image by Audiotecna Música (CC BY 2.0)
Do you have a tip or trick for combining contemporary production techniques with traditional orchestration? We'd love to hear it!